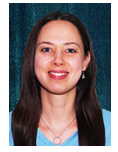 Sarah Gaudette is the owner and massage therapist at her practice, Paradise Therapy. Before going to massage school, Sarah graduated from Johnson State College in Vermont with a Bachelor's Degree in Psychology in 2002. Afterward, she worked as a Counselor for a Mental Health Agency. Sarah went on to graduate from Florida College of Natural Health in Orlando, Florida where she received her diploma in Therapeutic Massage in 2005. Sarah is a professional member of the American Massage Therapy Association and a Reiki Master. She received her certification for Reiki 1 in 2002, Reiki 2 in 2008 and her Reiki Master (Reiki 3) certification in October 2011.
Sarah specializes in Swedish and Deep Tissue Massage. She believes that massage does not need to be painful in order to be effective. Her slow massage strokes and techniques allow the muscles to relax so that the deeper muscle layers can unwind without damage. Sarah is also well accomplished in Reiki Energy Work, Reiki-Massage, Combo Massage, Foot Reflexology, Hot Stone Massage and Prenatal Therapy. She is excited that the business continues to grow every year and looks forward to many years to come.

Lic. MA46947
---

Jamie Long went to Manatee Community College in Bradenton directly after high school and received an AA Degree. She then transferred to The University of South Florida in Tampa and graduated with a BS Degree in Biology with a Minor in Criminology. After college, she worked as a high school Biology Teacher at a private school for 4 years.
Jamie later decided to go back to school and graduated from Florida College of Natural Health in Bradenton where she received an AS Degree for Therapeutic Massage and Personal Trainer. She has worked at spas in the Sarasota area which offered Swedish, Deep Tissue, Hot Stone, Hot Shell, Prenatal Massage, and Reflexology. She has also done Body Treatments and Scrubs in combination with using a Vichey Shower. Jamie also furthered her studies and became a Reiki Master. She is a member of the American Massage Council.
Lic. MA50206
---

Darcy Bracknell graduated from Bradenton Beauty and Barber Academy in 1996 as a nail and skin care specialist. In 1997 she moved to Michigan for three years and realized she was too cold and returned to sunny Florida.
In 2002 she graduated from Florida College of Natural Health with an A.S degree in Massage and Skin care. She enjoys doing massage and facials and received the Touch of Beauty award from FCNH. Let Darcy help you feel relaxed and beautiful.

Lic. MA44504
Lic. FS5865

---